[[

|250px]]

Biographical & Personal Information
Name:
Maria
Apparent Age:
Adult
Gender:
Female
Species:
Human
Occupation:
Unknown
Nationality:
American
Relatives:
Lightning (Boyfriend)
Weaponry:
None
Hobbies:
Having sex with Lightning
Hair Color:
Blonde
Eye Color:
Blue
Status:
Deceased
Cause Of Death:
Bisected By a Monster
Role:
Minor Character
Character Information
Appearance:
Feast II Sloppy Seconds
Portrayed By:
Amy McGee
Maria
, is a minor character who first & only appeared in Feast II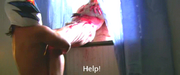 Sloppy Seconds,she was first seen having sex with Lightning until the monsters invaded Small Town. One of them, grab her through the window while Lightning try pulling her back in.Sadly she was decapitated by the monster & was ripped in half,Lightning shock and depressed by this, drags her corpse back inside the bedroom while his younger brother Thunder tries to clam him down.Her body was left inside the room while Lightning and Thunder try to escape from the area.
Lightning has mention Maria's name twice in the movie.
When Thunder told him they need to save people lives from the monsters;Lightning quoted "For Maria♥!"
Abuela was about to used as decoyed,since she was dying Lightning Told her to go with Maria then kisses her goodbye.